Do you hear what I hear? Oh yes, it's that festive time of year full of family and friends! As visitors come and go for celebrations and delicious meals, it's important to keep yourself and your family healthy to enjoy all the season has to offer. Pure Haven Essentials prides itself on offering safe, clean, and effective products that contain all the good stuff and NO toxic chemicals! With all the recent news coverage about toxins found in personal care products, and even toxic dust in our homes, you can give everyone you love the gift of a healthy home with these simple tips.
Here are a few simple ways to keep everyone feeling great: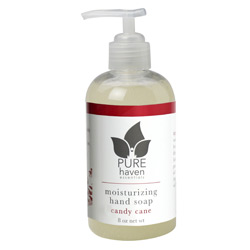 Moisturizing Hand Soap (regular, Holiday Spice or Candy Cane): Washing hands is key to staying healthy and keeping germs at bay. Our regular scent Hand Soap is always a favorite, and you can also spread holiday cheer with our exclusive seasonal scents: Holiday Spice and Candy Cane. Put one at each of your sinks for easy access when washing!
Hands on the Go: Holiday shopping or holiday parties mean lots of people and germs that can spread. You need clean hands! When you cannot get to the sink, Hands on the Go is the solution. A small amount of this cleansing gel is all you need to give your hands a soft and supple feel while gently cleansing without the need for water or a towel.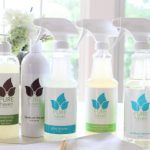 Home Essentials Cleaners: Pre and post holiday entertaining, our environmentally friendly, nontoxic cleaners are here to save the day! Wipe up messes and tidy up in a pinch with Surface Cleaner. Get those mirrors and windows sparkling with Glass Cleaner. And freshen linens, fabrics and the air with Master Blaster (also great for the stains that come along with holiday food and spilled drinks!) You can also have dishes done in a flash with Dish Soap. Scrub toilets and sinks for guests with Scrubbing Cleanser. Our line of nontoxic cleaners makes for a clean sweep all around, without having to worry about toxic chemicals.
Oil Essentials: Fill your home with natural scents throughout the holiday, and all year long. Simply put some water on to boil and add a few drops of your favorite essential oil to clear the air, add some scent or ward off germs. Diffuse for just 15 minutes and let the oils do the work. Our pure oils and oil blends allow you to set ambiance and fill your home with goodness and purity.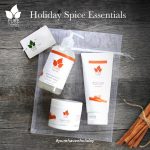 And of course, as you plan your holiday gifts, be sure to check out our full line of nontoxic gift sets, ready for giving! It's a great way to show the ones you love that you care about their health. To order gifts and get your home ready for the holidays, contact your Pure Haven Consultant, or visit us online at https://purehaven.com/shop.
We wish you the happiest and healthiest of holidays!