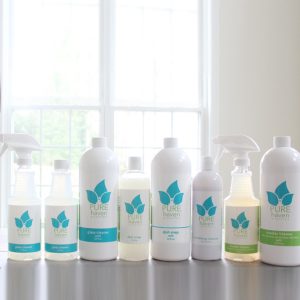 Pure Haven Essentials Consultants are truly special people. They are passionate about living a healthy lifestyle and steering clear of toxic chemicals as much as possible. With their vast knowledge and resources, Consultants educate people about the dangers of harmful chemicals and their health implications, and offer a solution: Pure Haven Essentials products, which are safe, clean, and effective.
For some, hearing the message and mission of Pure Haven Essentials is a brand new experience. They may not have realized the issue with toxic chemicals in this country or realized how said chemicals can affect their health and that of their loved ones. Or, they are people who are educated on the issue but want to learn more about our products.
As you start down the path toward healthier products for yourself, your home, and your family, it can feel overwhelming, and you may not know where to start. Here are some tips. Be sure to speak with your Pure Haven Consultant who is there to help you every step of the way!
The System Approach: Choose one area of your life to start you on your path to cleaner living. For example, you might start in the bathroom with your skincare routine (Cleanser, Exfoliator, Toner, Moisturizer) or perhaps you'll decide to replace the products your family uses for bathing (Shower Gel, Shampoo and Conditioner, Deodorant, Body Lotion). Maybe you'll decide to start with the products you use to clean your home (Dish Soap, Surface Cleaner, Glass Cleaner, Master Blaster stain remover), or begin with your daily makeup routine (Tinted Moisturizer, Cheeky Color Stick, Cheeky Bronzer, Lip Gloss, Eyeliner, Mascara). Work with your Pure Haven Consultant to decide on a place to start, and then add additional systems as you move forward.
Replace as You Use Up: Another way to start is to simply start replacing products, one at a time. The next time you need more soap, shampoo, or household cleaners, opt instead for a healthier choice. Keep a list of the products you'd eventually like to replace with nontoxic items, and mark off each one as you make the switch. This gradual approach puts you on the path to nontoxic without returning items or throwing a lot away.
Sample the Systems: A third approach is to start with one or two products from several of our systems to begin making the switch. So for example, you might start with the Surface Cleaner, Tinted Moisturizer, Shower Gel, Dream Cream, and the 4-piece Skincare Set (or host a party and get the 6-piece Skincare Set free when two friends decide to host their own parties!) Then, as you use up other products, you can make the switch more gradually until your home is full of wonderful nontoxic products you feel great about using every day.
No matter how you decide to start down the path to a nontoxic way of life, be sure that you are doing something amazing for you and your family. You are making a choice that has a huge impact on your health and wellbeing, and there's nothing better than that.
Here's to your good health!