Who knew that such little bottles could provide so much use when it comes to health and home?  These easy recipes can all be made using the certified organic pure essential oils we offer.
Cool Lavender Compress
Lavender essential oil takes the sting out of scrapes, bug bites and soothes skin.
1 pint of cold water
6 drops of lavender essential oil
Submerge washcloth in water blended with lavender essential oil. Wring out cloth and place on skin. Leave in place until it warms to body temperature.
Tea Tree Antibacterial Spray
Use at home or during travel to help stop the spread of germs.
4 ounces of purified or distilled water 30 drops of tea tree essential oil  
In glass spray bottle, add the water and tea tree oil and shake.
Spray doorknobs, toilet handles, and sink handles to help alleviate the spread of cold and flu bacteria.
Insect Repellent Helper
Cedarwood is a woodsy warrior when it comes to helping keep pesky bugs away.
4 ounces of purified or distilled water
24 drops of cedarwood essential oil 
In glass spray bottle, add water and cedarwood essential oil and shake.
Spray on shoes and socks to help keep bugs away. Spray the outside environment to keep bugs out of sight. Spray onto dryer ball and hang outside when you sit. 
 (hover over image to pin to Pinterest)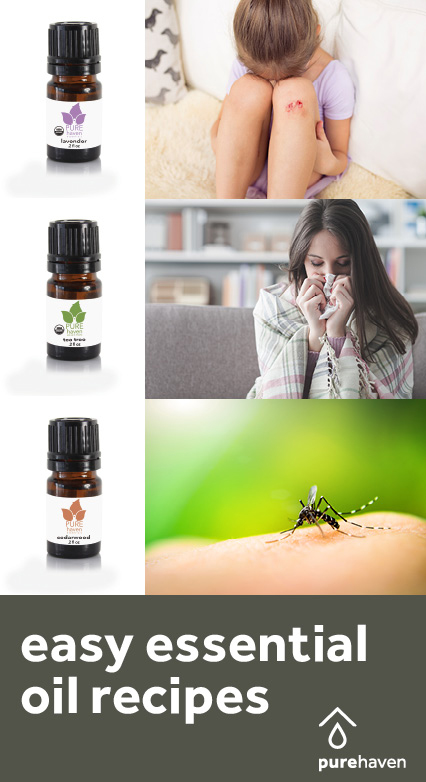 Peppermint Smelling Salts
When you're feeling nauseous, get a peppermint boost to calm the stomach.
1 tablespoon of sea salt
6 drops of peppermint oil
This simple remedy of inhaling peppermint is one you can use anytime to ease the feeling of an upset stomach.
Lemon Goo Release
1 drop of lemon oil, straight from the bottle onto a very stubborn, gooey situation will help with your frustration when it comes to removing price tags, etc.
1 drop lemon essential oil directly on the tag. 
Wait one minute – wipe off with damp paper towel and the tag should release. Repeat if goo is still on the object.
Pure Haven offers over a dozen certified organic essential oils. Click here to learn more and shop for your ingredients these easy essential oil recipes.